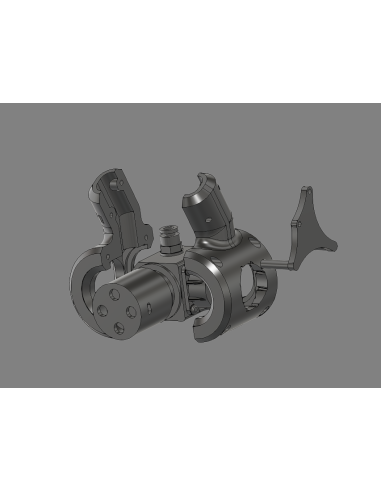  
Grip Fix HPA Regulateur Balystik (V2) By Soft-Tech
Version: V30
MAJ:15/09/2021
Product designed on the tilt of a G&G ARP9 grip

Secure online payment
Allows direct installation of an HPA Tank on a standard AEG grip through a Balystik regulator.
You must properly install the pneumatic fitting yourself and drill your grip.
Included:
-3 3D parts (shells +drill guide)
-1 Push-in (OD 6mm 1/8 NPT)
-2 Vis TFHC M3x30
-4 Vis TFHC M3x18 
-6 écrous M3
Printed in high quality ABS plastic.
ATTENTION: This part will be shipped between 1 and 4 working days after the order (Cause of printing time and stock).
As always, repair / upgrade / custom requires mechanical skills, so you act with full knowledge.
It is up to the consumer to be rigorous when using a printed product,
because it does not make it possible to compete with the mechanical properties of production by molding or by machining (except by compensation with higher quotations when integration allows it).
The simple purpose of 3D printing is to prototype or produce parts that do not exist in markets too small to exploit other production methods.
No thread in 3D printing allows clamping by crushing, a simple abutment support is enough for any product of our creation.